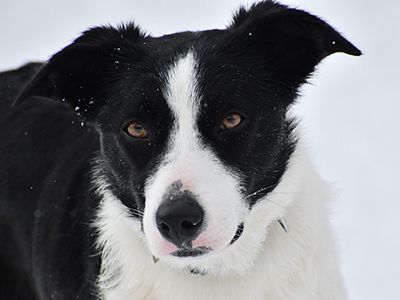 Becca is a loved member of our household. She came from Ireland in February 2022 by design and by accident; by design because we wanted another working border collie, by accident because we weren't anticipating a rescue.
There are no returns to Ireland, and Becca was in need of kindness, care and security. Becca suffers from fears natural and acquired —fears of noises and people and dogs outside of her pack— that need to be managed and accommodated.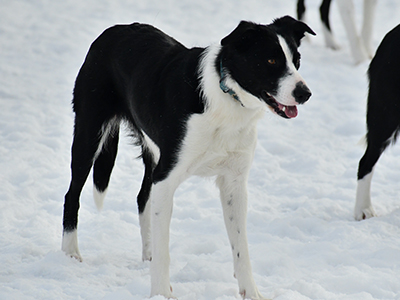 Becca's fears have not disappeared over the past year but they have abated. She needs a safe space —a kennel, a spot of her own in the house or the car— where she can be secure until danger has passed. However, most of her life here on the farm with a pack of other dogs is happy and quite normal.
The word that best describes Becca is 'sweet'. She has a beautiful spirit; she is happy and grateful for the smallest kindness. She is an easy dog to have around. She loves her humans and her pack. She is playful and obedient …always trying to please.
When visitors come or she hears loud noises (thunder, gunshot, fireworks), Becca will want to disappear to her safe place. We know that and make allowances.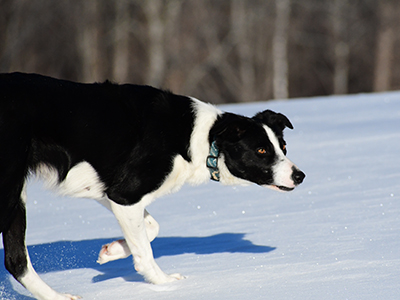 Becca is keen on hiking and all manner of activity on and off the farm. If we encounter other people or dogs, Becca will find a safe route in the woods or parallel to a trail where she can avoid contact and then return to us. She will be back as soon as the coast is clear.
Becca will not be a working dog on our farm, as planned. She can be distracted from her work by noises and other frightening things. We feel there is probably a better home for her, where she will be a loved companion, not a working collie. Becca has progressed from a bundle of fears to a cheerful member of the farm. Not yet 2 years old, and after a year of care, she is ready for a permanent home.
Becca is not a needy dog. She can be left for hours while her humans are away and will be content. She will be ready to go when her humans are: to jump into the car, walk/run the fields, hike a trail. She is crate and house trained. She doesn't bark or commit acts of destruction. She will need a fenced yard in almost all prospective homes. And she will need a safe space if left outdoors in the fenced area.
The ideal home for Becca is a single or couple seeking a warmhearted, sweet and highly intelligent dog. She needs people who can work with and around fears because they love all the good that comes with them. We think Becca has the prospect for a fuller life than we can giver her here. She will thrive in a place where she has her human(s) to herself.
For more information, contact:
Charles Denton [email protected]