About Auggie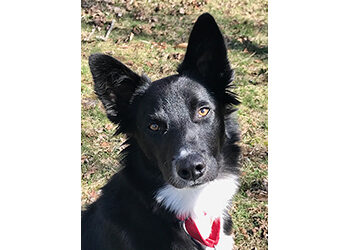 *ADOPTED*
Hi there! I'm Auggie! I'm a energetic pup, who is seeking a loving forever home of my own that will give me plenty of fun activities to partake in!
I'm no couch potato! I'm smart and learn quickly. I'm very well adjusted to most things life throws my way. Like most Border Collies, I'm a little weird sometimes… I LOVE to play with big rocks, pushing them around with my nose with great exuberance! I can get a bit possessive and obsessive about it, so mean foster mom threw my most prized rock over the fence, where I occasionally stare longingly at it as I pass by its new domicile.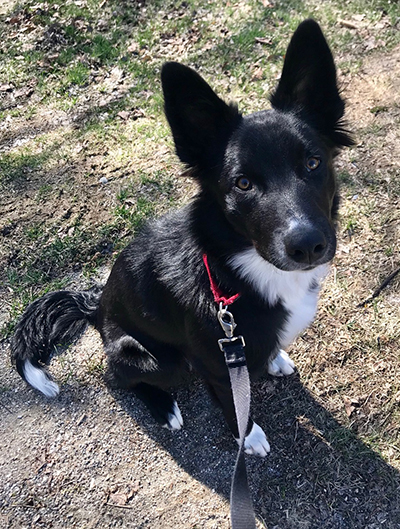 I'm friendly and love people, kids included! I'm good with most dogs and cats I meet. But I can be a bit possessive with my most valued belongings. I'll never start a scuffle with another dog, but I'll be the one to finish it. That said, I liked going to doggy daycare when I lived with my previous family, and all was good there.
I'd prefer being the only dog in my new home. But I'd love to get together with other good natured dog friends on neutral territory.
I've been living on a horse farm with my foster family, and pretty much could care less about the horses. Thus, being a herding dog is probably not my ideal career path.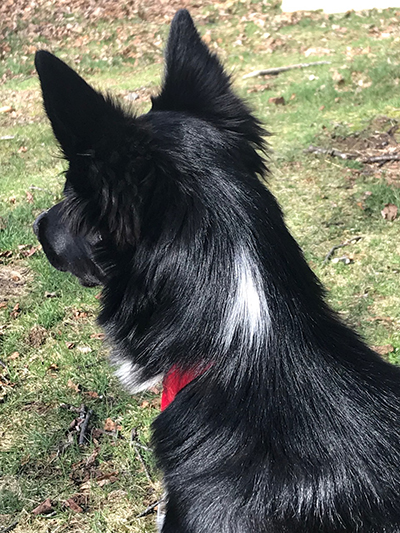 Then there's my foster cat, Mr. Moose. Mr. Moose is a special cat, who stands his ground and smacks me in the face if I play or love on him too much. If he ran though, I'd really enjoy chasing him!
I'm crate trained and know 'load up'. I get Kongs filled with yummy stuff when I'm in there! I'd really enjoy more training and a job of my own. I know 'sit', 'down', 'eyes', 'touch', 'wait', 'paw' and 'come'. I have both treat and toy drive. I love a good game of tug! I think riding in the car is cool!
If you are looking for a new Best Friend who will adore you forever, then I'm your guy!
---
Please do not inquire about a particular dog until you have an APPROVED application on file.
Male
9 months
Yes
No
Maybe
Yes
Yes
REQUIRED
REQUIRED
NO!