About Blue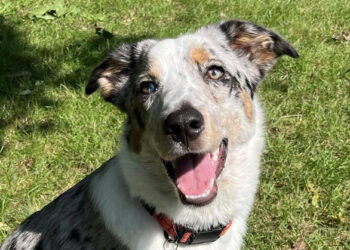 **Adopted **
This adorable 5 month old young lady is Blue! She is an impressionable young thing that is looking for a life coach/guide to show her how wonderful the world can be.
Blue started off life with very little human contact or experiences before some good samaritans stepped in to help. They quickly realized how under-socialized Blue was and contacted NEBCR to be sure she was properly placed and trained.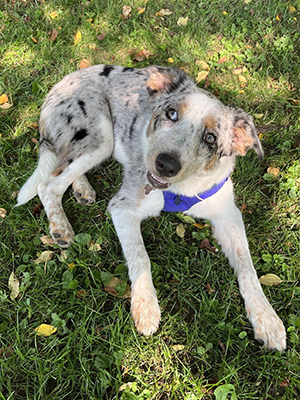 Blue has shown us that although she still finds many things very scary, she is also super sweet and will love her person with every ounce of her being. She wants so very much to do the right thing and be brave, but has not yet had enough positive experiences out and about in the world to know it isn't scary.
Because many things/places in the world are still very scary for Blue even when she is trying her best, and she is a flight risk, a home with a fenced area for her to enjoy and feel safe is a must at this point for her safety. She simply is not a 'normal' puppy that can be trusted to run off leash at this time.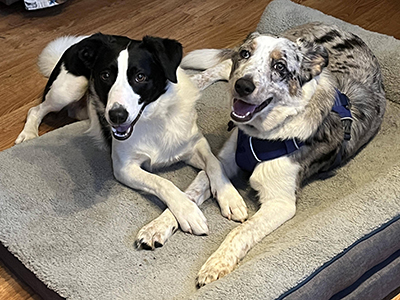 Blue has also shown that she can be fearful of new people and needs a minute to warm up to them. This looks like barking and avoiding until everyone has settled and then she is a puppy love if she deems you worthy! Men can still be especially scary but she can be won over with time and positive experiences, and is always happy to share her couch with them. She would benefit greatly from having her go to person be a female at least till she gets settled as she bonds to women quickly. Blue has already shown progress with being comfortable with new people in rescue, and with an adopter that is experienced working with fearful dogs the sky is the limit for how far she can go.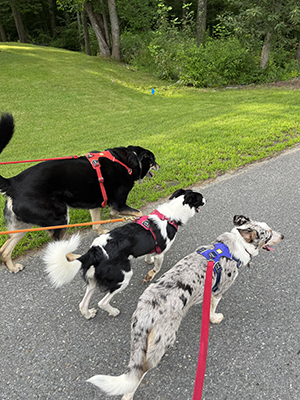 Blue has also thoroughly enjoyed having playful canine foster siblings and would like to request that her forever home have a confident sibling to help in showing her how to be brave. Although she loves to play, Blue also has excellent boundaries with the older dogs in her home. She takes her cues- whether that means be brave or bark your head off at something- from them.
Blue is cautious but curious with the dog savvy cats in her foster home.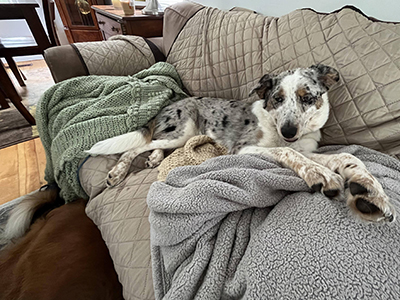 So far we have seen that the thing that terrifies Blue most is children. Combined with her fear of new people we do feel that it is best she be placed in a home where she does not need to navigate the coming and going of children (and the busy lifestyle they entail).
In the short time Blue has been in foster care we've found her to be on the calmer side and she will happily lounge around the house. She enjoys playing with toys but will not destroy them, and REALLY loves snoozing on the couch. The couch is very much her happy place and she would love a home that continues to let her access it.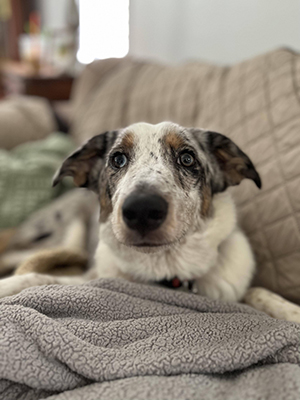 Blue is a soft, lovey mush, and a cuddly puppy. In time and with training, patience and positive experiences we hope that Blue will be the same out and about as well. However, she will need an adopter that is dedicated and experienced in working with a fearful dog.
Please Note: Spay contract is Required
Blue is being fostered in Maine.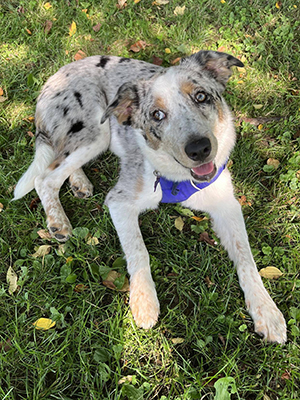 ---
Please do not inquire about a particular dog until you have an APPROVED application on file.
Female
5 months
32 lbs
NO
Yes
Yes
Yes
Yes
REQUIRED
REQUIRED
NO