About Cash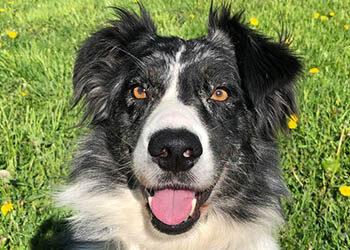 **Special Update**
Cash is a six-year-old border collie/ Aussie mix. He came into rescue due to his need for expensive surgery which his loving former family could not afford. He had bilateral peroneal hernias, which, over time, had worsened to the point where he was totally preoccupied with his backend, and soon the problem would have threatened his life. Thankfully, NEBCR became involved, and in a matter of hours Cash was in his foster home.
The surgery took place soon after, and gradually his physical and emotional healing has been completed. Cash (now Jack) has become a happy, healthy boy. He has megacolon and will always need a special diet and careful monitoring, but should live a normal life. Jack loves to run most of all, and if he can run with a toy, all the better! He is a joyful dog – everything makes him happy. He likes other dogs, loves people, all toys, riding in the car, going for walks, loafing on the sofa, and learning new things.
He also loves his foster family and they love him. He thinks he has found his forever home, and he is right! Jack will make his foster home his forever home. We all could not be happier! Thank you NEBCR for making this possible.