About Finnegan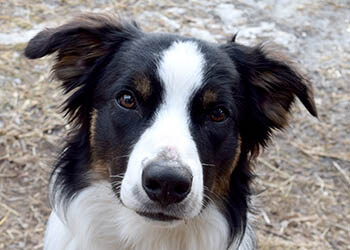 FINNEGAN IS NOT YET AVAILABLE FOR ADOPTION
UPDATE: 6/07/22
In very late March, after nearly 3 months of being seizure free, Finnegan began having seizures again. While we expect that Finn will have occasional seizures throughout his lifetime, he was just a few days short of being considered well controlled and therefore needed additional medical care and time in rescue.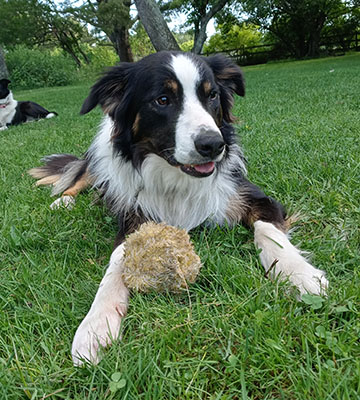 Over the past few months, he has been very busy having tests to determine if there is a cause for his seizures, sorting through medications and celebrating his 1st birthday! The good news is that Finn is a young, healthy dog with idiopathic epilepsy and he can work on finding the medications that work best for him. In the meantime, we wanted to share what we've learned about this handsome young boy.
Finnegan is a typical border collie in many ways: He is smart, friendly, creative, toy loving, and a little mischievous. His favorite toy is a jolly ball. But in Finn's mind, anything can be a toy! He also loves stuffed squeaky toys and has mastered the art of destuffing and desqueaking them.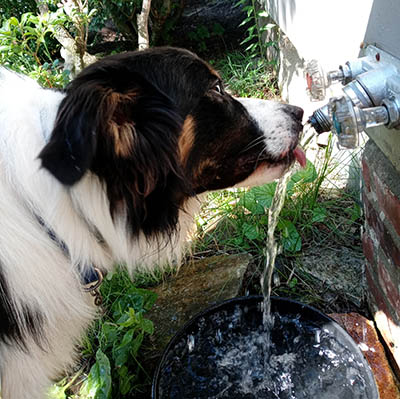 Like most border collies, Finn is aware of motion and sudden changes in the environment and responds quickly. He does not show an interest in chasing cars, bicycles or motorcycles but is keen to small animals. His foster home will work on this with the resident cats to determine if Finn can live with cats and other small animals. Finn enjoys walks in the woods and taking the time to sniff all the wonderful smells the woods have to offer. He enjoys sharing a couch with his person and has been known to jump up and offer a hug when you least suspect it.
Mostly, Finn likes to be with his people and will happily lie nearby with a good chew or a food puzzle while his person is busy. He is on the quieter side with the exception of being very vocal about being left out of his foster siblings fun. He is making progress in understanding the meaning of "wait your turn." Finn will likely not be a candidate for any high drive sports due to the side effects of his medications but since he is still in the adjustment period, we'll make this determination at a later date.The border collie perseverance is strong with this boy!
Finn needs some time to ensure that he is on the best treatment plan for him. We hope it won't be long before this special boy can begin to look for his very own special person.
While he's working on getting ready to be available for adoption, Finnegan would like to tell you his story in his own woofs…
PLEASE NOTE: We cannot give out information on dogs not yet available for adoption.