About Joey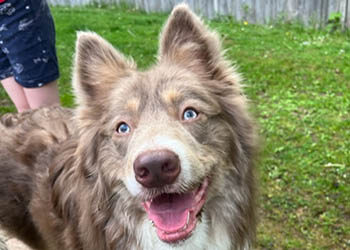 *ADOPED*
Joey is a 1.5 year old border collie. He is all fluff (more to hug!) and his warm personality matches his looks! He is athletic but not nearly as intense as most border collies. His entire focus is on his person and as long as he gets his walk and some play time in, he is perfectly happy to snooze by your feet while you field your zoom calls, watch tv or read a book. We cannot emphasize enough just how much Joey adores his people!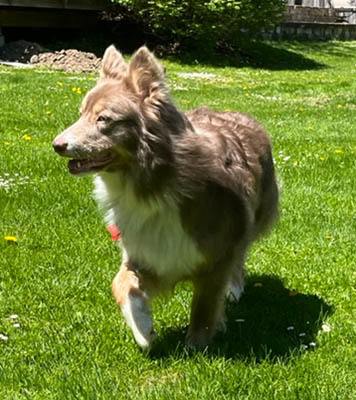 While Joey relaxes around new people quickly, he occasionally needs slower introductions to strangers to feel comfortable. A couple of treats and few nice words usually do the trick but for this reason, he would likely be happier in a quieter household where strangers do not come and go all the time.
Joey enjoys the company of most other dogs. He really hit it off with the 10 month old female border collie puppy in his foster home – he loves to groom her and you will often catch them zooming and wrestling their way through the house. His ideal home would have another easy going dog to play with. He has lived with cats before and seemed to do just fine with them as well.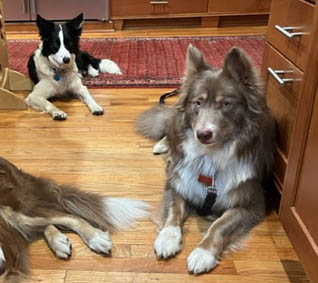 He truly is a wonderful, sweet pup but Joey will need to go to a home where someone is around most of the time. See, Joey will willingly go to his crate when you need to leave but he gets really stressed when he is left alone, even for shorter periods of time. He is not destructive but he barks and worries intensely until his people come back. He would love someone who can work with him on his fear of being left behind.
Joey is very food motivated, he walks quite nicely on a leash and he enjoys wading in the lake by his foster family's home. He has a good recall and never strays too far. He is a 44lb teddy bear that lives for snuggles!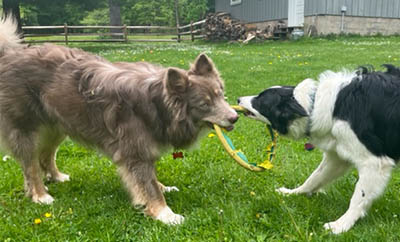 Male
1.5 y.o.
10 y.o. +
Yes
OK
Yes
see bio
Recommended
Recommended
Unknown