About Lilou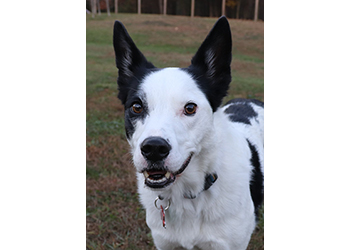 Introducing Lilou!
Lilou is a 6-year-old, energetic, loveable lady. She is a black and white, very soft smooth-coated border collie mix, weighing in at 40 lbs. She is fully vetted and microchipped. Lilou is a very happy girl with a tail that never stops wagging and is delighted to show her love with sweet kisses.
Lilou came into foster from a loving home already knowing all commands needed to be a great companion.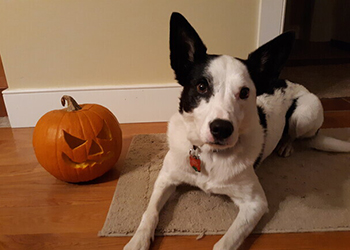 She is housetrained, crate trained and won't jump on the furniture unless you invite her. She is more than willing to snuggle up with you in bed at night if prompted but actually prefers the dog beds during the day and will sleep soundly in her bed during the night.
She has command of sit, stay, down, wait, go potty, shake, and roll over. Her recall is great as well.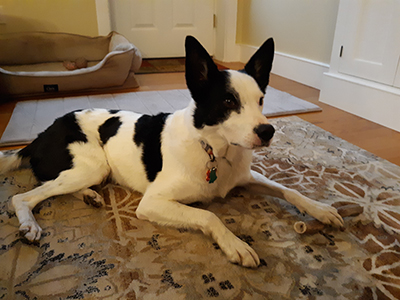 She is very smart and food motivated so does great at following directions and learning new things. She does really well on a leash and enjoys going for walks and hikes. We were told she loves to go camping, swimming and has done some agility but we have yet to try these activities with her. Lilou is looking for a family that is interested in staying active, has a job for her to do, and/or enjoys outdoor adventures.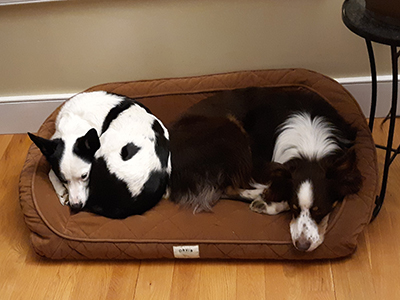 Lilou has been friendly with everyone she meets, but will need a home without small children that may tend to get into her personal space too much and that she can hyper-focus on. This is how Lilou came to be in a foster situation. Older children who can respect her space are a possibility. We have not been able to observe her with cats but her interest in small animals suggests she is better in a home without either.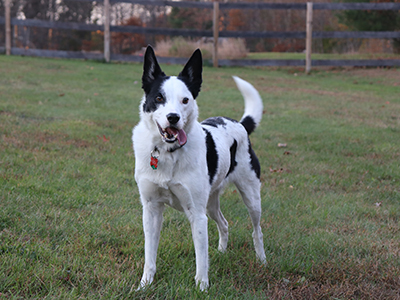 She is great with her foster siblings, an 8-year-old female BC and 6-year-old male Aussie. She has lots of energy and likes to run around with them, but isn't into toys much. She likes to do a little herding while her siblings chase the ball or frisbee, but she is getting the hang of playing tug. She also does like a good bone to chew.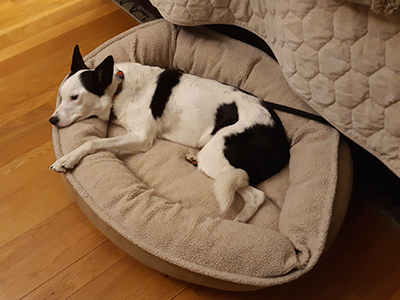 Lilou loves spending time with her people and foster siblings. If you are looking for a very sweet, happy, devoted, active and well-trained companion, please inquire about this fantastic girl!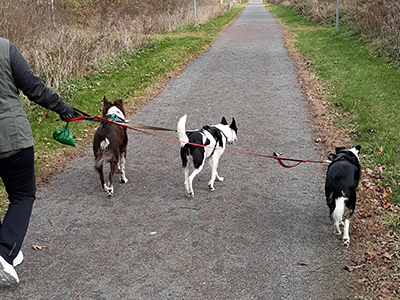 ---
Please do not inquire about a particular dog until you have an APPROVED application on file.
Female
6 y.o.
40 lbs
No young kids, see bio
Yes
NO
Yes
Yes
Not Required
Yes
NO