About Moxie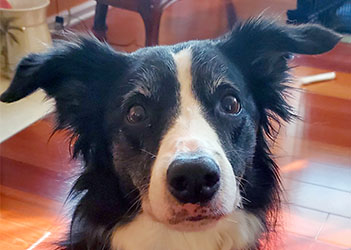 *ADOPTED*
Moxie was relinquished when her family realized they could not give Moxie the home she needed after a change in their circumstances. She has only had one home and she has been fostered since mid-December. Moxie is a great companion dog with very few demands. She has good energy and has a gentle and sweet temperament. Her life centers around her people.
Moxie loves her tennis balls and plays inside and out. If you don't put the ball away, she will keep bringing it to you. This is one of the few times she barks – just to make sure you are still interested in tossing the ball.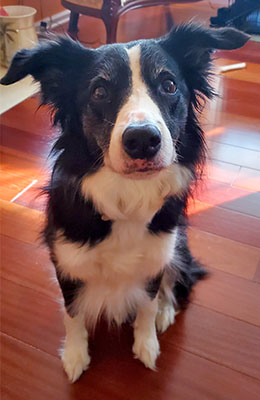 She has a very good vocabulary of command and knows: sit, stay, off, leave it, go lie down, paw, drop it, ball, and bring. She also knows "let's go" when you want her to join you on the walk. She has excellent recall with "Moxie come!" and loves the positive comment "Good girl, Moxie".
Moxie does counter surf for food and will grab food out of your hand if it is low. A gentle "off" or "leave it" works well. She isn't comfortable in a crate or laying down on a dog bed and prefers to sleep on your bed, a chair or couch in your room.
Moxie is in good health. She can be a picky eater when it comes to kibble, but when a product like "Fresh Pet" is mixed with her kibble, she finishes her food at once.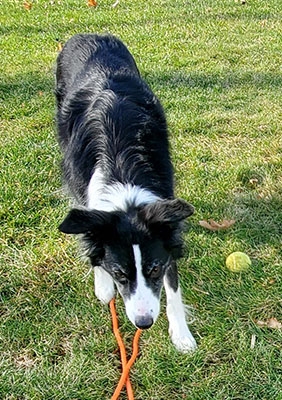 Moxie is very good on a leash with the exception of passing vehicles. She doesn't pull and has a good steady pace. She should remain on a leash if walked where cars may pass by, as she will bark and spin 360 degrees once or twice at moving vehicles. She doesn't try to chase them, but gets very excited (her foster home is continuing to work on this).
Moxie has been for a ride in the car a few times and there were no issues, however she refuses to get in her car crate. Along these same lines, Moxie will not stay behind a baby gate. She has escaped over a five-foot barrier that was 5 feet in uneven depth (such as boxes, chairs and blankets stacked up in front of and behind baby gates). That being said, she has been left alone in the house for 5 hours and didn't howl or damage anything. If you are in the house, she will do anything to be near you and doesn't like being kept away from you.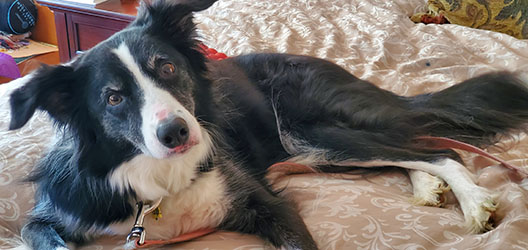 Moxie hadn't been around other dogs prior to coming to rescue. We have found that if Moxie is properly introduced to other dogs and people, she does very well. She has become good friends with the other border collie in her foster home. She does let him know when he is a little too much for her, but in a very appropriate way.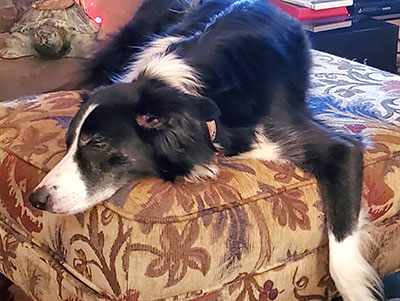 Moxie is looking for a home that can continue to work on her socialization skills. Daily walks with another friend and their dog would be really good for her. She will not do well in a dog park environment. We're still working on the few issues she has that are noted above, and that work may need to continue in her new home. But Moxie's cuddling and bed-hogging expertise are in tip-top shape!
Female
8 years
Yes
Yes
No
Yes
No
N/A
Yes
NO