About Ripley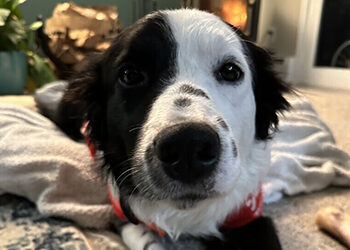 **ADOPTED**
Introducing Ripley, a 2 yr old male. Ripley's full name is Sir Ripley Von Freckles, he is a black and white long haired border collie. He is smart, willing to please, and will make his new family very happy. However, although he is the sweetest in many ways, he still needs some work to improve some reactivity and human socialization issues.
In his foster home, he started off timid but quickly got attached to "his people." He is quite shy with strangers and will bark if he feels threatened. It took 2-3 weeks for him to get fully comfortable with the men in his foster home — Ripley is scared of most men that he doesn't know. With women, he is comfortable much quicker.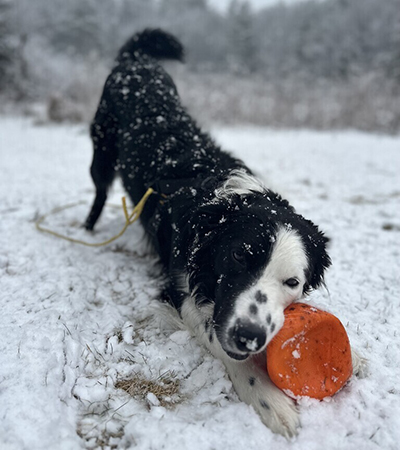 Ripley made very quick progress with basic commands. He is not good off leash because of his reactivity, but with training, we believe he will get there. He can be reactive towards big loud trucks, kids, and runners. He gets scared and will bark if his foster mom doesn't anticipate his trigger. But he is making a lot of progress as long as she can get his attention before he reacts and have him sit for treats.
Ripley is a very sweet boy and will make someone extremely happy. He is super loyal, willing to please. He LOVES to cuddle. He will lie down next to his foster parents on the couch or ground and bury his face. He can't get enough pets. During the day he is content sitting near his foster parents' feet while they work.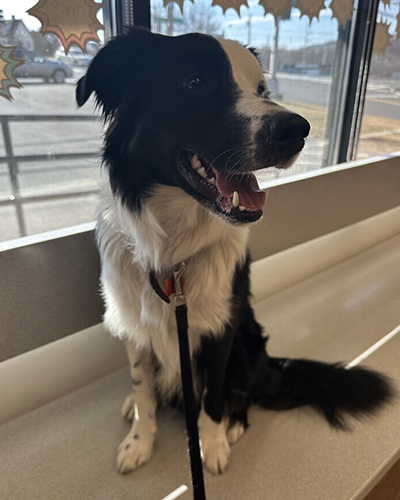 He does not appear to have extreme social anxiety. At night he will happily sleep in his crate for 8+ hours. He will only whine if he sees people are awake and they're having a good time without him, he must have some FOMO. During the day he hangs out in the house and does not bark or display any major anxiety when his owners leave the home. If he is outside in the yard and wants to come back in, he will patiently wait at the door, no barking or jumping. Ripley loves couches and beds and will jump up. But he responds well to "off" or "down" when couch/bed is not a good time.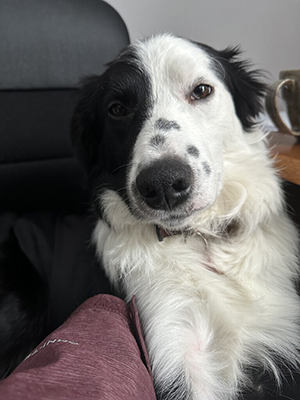 Ripley does very well with other dogs. He is good at sharing toys and bones. We expect he will do well in a home with other dogs, especially those who will help him with his confidence! During walks, he still needs significant training, so he should be walked alone for now. He just learned how to play but will occasionally still exhibit herding behavior if another dog is playing fetch. When alone however, he is great at fetch! He lovesss toys and can tear/eat his toys if they aren't tough. Luckily, he has not chewed any items that are not toys. He is incredibly fast, agile, and smart, and might make a good sports dog for agility, frisbee, etc. He has not been around water, so we are unsure if he likes it and would like to swim.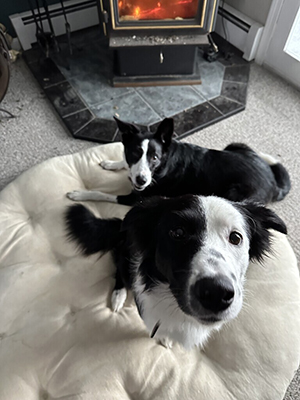 Ripley does not well with other furry creatures. He will likely chase cats and he has a history of chasing horses and bunnies.
Ripley is not good with kids. He wants to herd and bark at anything that has a high voice, runs, or makes fast movements. If there is a school nearby or kids on the sidewalk, he goes a little crazy. He is learning to walk away from those possible situations for a good treat, but it's a work on progress. Ripley is really sweet with teens and above.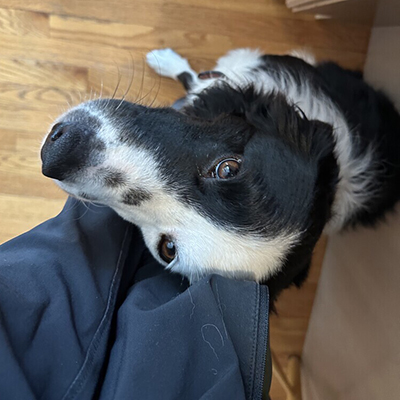 Ripley was recently neutered. He has a history of extensively marking in homes, but he has not marked since. Otherwise, his behavior did not change post neuter. At the vet Ripley is scared, but will listen to the vet techs and easily follow them to the back. The vet techs have reported that Ripley was really good with them.
In the car Ripley will sit down or lie down and he appears to be enduring the ride until the destination. He willing jumps into the car but prefers the middle seat with a seat buckle over the trunk in a crate.
Ripley would do well in an active home that has experience with dog training.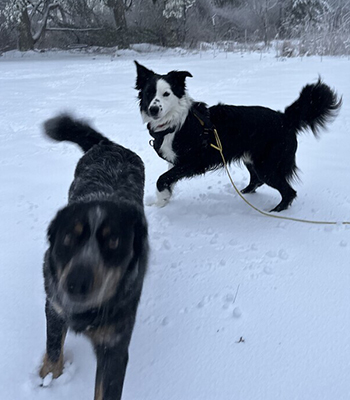 ---
Please do not inquire about a particular dog until you have an APPROVED application on file.
Male
2 y.o.
NO
Yes
NO
Mostly
Yes
Required
Preferred
NO