About Scotia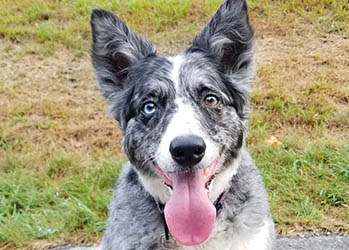 **ADOPTION PENDING**
Introducing Scotia, a cuddly, warm, loyal, blue merle female border collie.
Scotia is on the calmer side for a border collie as she is okay chilling on the couch or on the ground while her human works/cooks. But she still is a border collie and is her happiest when well exercised and mentally stimulated.
Walks are her favorite part of her day! She does a little happy dance whenever you say the word "walk". Her happy spot is dashing through the trails of a nearby park and trotting along the sidewalk in the mornings and evenings.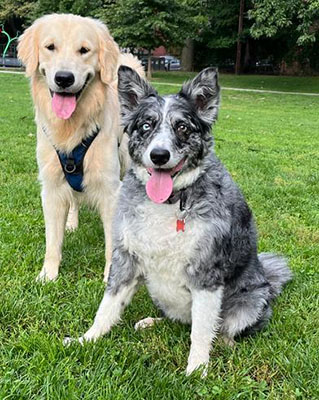 When Scotia joined us, she was about 20 lbs overweight, but was quick to lose some weight with short walks turning into longer walks/jogs. She still has some more pounds to lose to get her to a healthy weight.
She has had many playdates and hikes with other dogs as well, which she does well. And she is still learning how to play with toys and other dogs – sometimes she doesn't like to share toys. She gets along with most dogs, but if there is a high energy dog that jumps or pushes her, she will let them know with a growl that they are annoying her. If this happens, she is easily redirected. Her previous owner reported resource guarding with other dogs, but since she is the only dog in her current foster home, we have not seen this.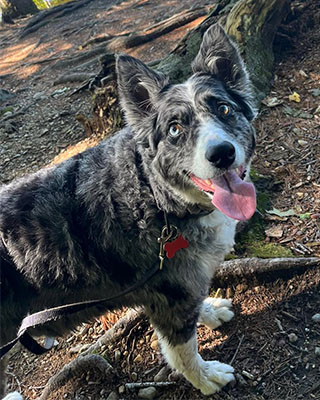 Scotia is a smart girl, she learned to fetch in 10 minutes, and will let you know she is tired by lying down on the ball.
Scotia is so sweet and will give kisses to any stranger! She is so sociable and such a people pleaser. She responds with excitement to any human that shows enthusiasm to see her, she will even start crying when seeing her favorite humans (it's very cute).
If she needs something while in the home, she will let you know by sitting next to you and then giving you her paw. This usually means I need to pee or please give me attention.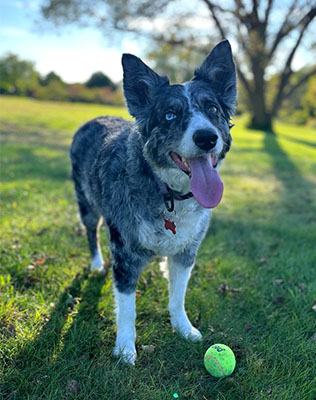 When Scotia gets too excited at the beginning of walks, she will try to bite the leash, but she responds very well to "sit" and she takes this time to calm down to quickly continue her walk rather than leash biting. We are slowly getting rid of this habit by anticipating any exciting moments and refocusing her attending on moving forward on the walks. Scotia ignores kids she meets out in the world, but to our knowledge has not lived with any children and we do not have any prior history of her interacting with kids.
Overall, Scotia is an incredible dog. She is a big cuddly and ball of joy.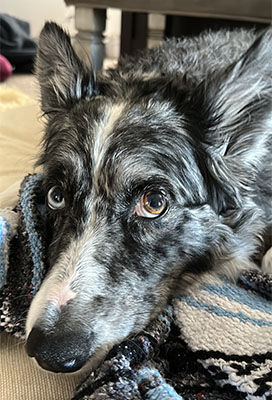 ---
Please do not inquire about a particular dog until you have an APPROVED application on file.
Female
6 y.o.
Maybe (see bio)
Maybe (see bio)
Unknown
Yes
No
Recommended
Recommended