About Spenser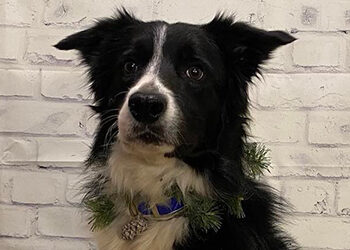 UPDATE
When I was asked to foster Spenser after he came back to NEBCR I was hesitant: I had not fostered before; I didn't have a fenced yard or fenced exercise area; I had cats with no (or very limited) experience with dogs. I was assured that these would not be a problem: as a previous NEBCR adopter (although presently without a dog) a home visit had been done; I lived in a rural area 600 feet from the nearest road and Spenser was not a flight risk so not having a fence shouldn't be a problem; Spenser had lived with and should not be a bother to cats. And Spenser had no major issues that needed to be resolved before he could be posted for adoption again. So, I agreed.
Spenser came pretty much as advertised. He was a little more attentive to the cats than I had hoped, but was easily discouraged from any herding attempts. He was crate trained, slept in his crate at night, and when he disappeared inside the house was most often found just chilling in his crate. He did not wander especially far when we were outside and had "pretty good" recall, although he became distracted easily (and apparently selectively deaf) by strange scents and sounds. As warned, he became very excited around anything motorized – lawn tractors, snow blowers, snowmobiles, delivery trucks; and some things non-motorized like fat bikes and cross-country skiers. And very, very excited to meet anyone new – two legged or four. Also as advertised it looked like he could be posted on the web site soon after the two week minimum foster period.
What I hadn't counted on was how soon I fell back into the comfortable and rewarding routine of living with a dog – an eager and appreciative companion on walks, outside with a ball or frisbee, inside with a tug toy, or just snoring loudly lying next to my chair. And the cats have adapted, following the adage "trust but verify" when Spenser comes into a room a little too quickly. As a result, after discussions with NEBCR I asked and have been approved to adopt Spenser. Must be a record for failed fosters – one and done. There are a few rough edges to smooth out – on both sides. I need to keep reminding myself that Spenser is neither of my first two BCs – he's his own self – and that it is early days yet. Spenser needs (with some help) to acquire some social graces when it comes to meeting new people and dogs and become a little less selectively deaf. And I'm looking forward to the process.