About Zest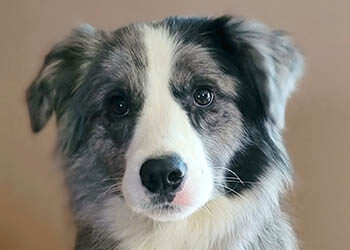 *ADOPTED*
Zest is a 17 month old purebred border collie who came into rescue last year after being hit by a car.
Through the wonderful support of NEBCR and the amazing AMC To The Rescue https://www.amcny.org/amc-to-the-rescue/ program, she received the care she needed, including a total hip replacement, in order to make a full recovery!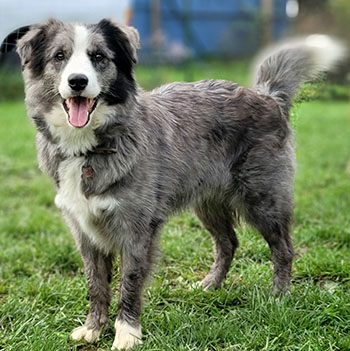 Zest is as active and intense as she is pretty! Don't let her beautiful looks fool you, she is definitely not for the faint of heart. This girl needs a herding breed experienced home. She is a bright girl and learns very quickly. She thrives being an integral part of the family, and is eager to learn new things. She does not like being left out of activities and will make her displeasure known by way of barking – we can't really blame her as she did spend quite a bit of time on crate rest recovering from her injuries as a youngster!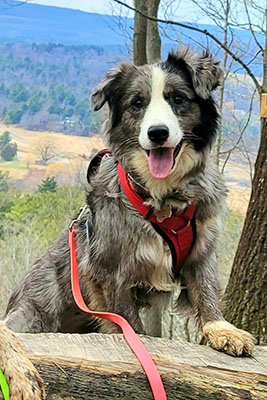 Zest loves playing with dogs, but she can be a bit enthusiastic in her playstyle. She will play for hours with dogs that will put up with her play style!
She is crate trained and very good in her crate unless she hears the other dogs having fun – then she is vocal about the unfairness of it all. She is perfectly quiet and calm when the house is peaceful and also when her foster mom is out of the house. She is housetrained and is happy to hang out chewing on a bone and playing bitey face with her friends after a good day's exercise, and is free at night and does great. She has been fine with the dog savvy cats in her foster home.
Zest has been introduced to sheep and has great interest in working, however, it remains to be seen if she has any talent.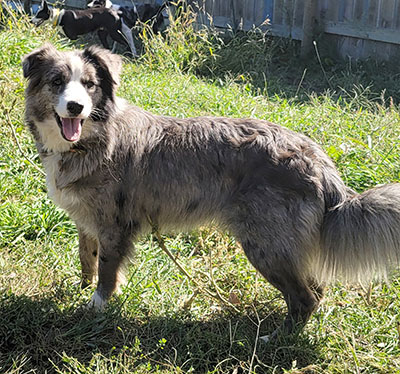 While she has no exercise or activity limitations, she may not be a candidate for a competitive agility home as the hip replacement has left her with a bit of a different range of motion in that leg. It doesn't affect her at all in her day to day life and fun.
She loves being with her people, is very bright and is food and toy motivated.
Zest's new home must have a solid plan to meet her exercise needs – both mentally and physically. A fenced yard, while preferred, is not necessarily required – each applicant is looked at on a case-by-case basis, and we are truly looking for the best fit for Zest, where she is going to be able to thrive. That said, she is not currently a candidate to be loose in an unfenced yard, so if you don't have a fence you do need a solid plan on how to meet her exercise needs safely.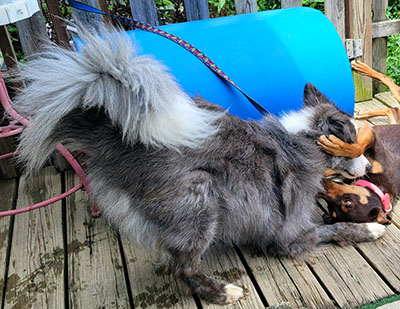 A home with other compatible dog(s) and an experienced dog owner with a desire to be actively involved in training of some sort is preferred. Zest is being placed with a positive reinforcement based training class requirement as a condition of her adoption. She will likely do best with playful dogs who enjoy a rough-and-tumble play style.
Zest is up to date on vaccines, spayed (done at 16 months of age), has tested negative for heartworm and tick borne diseases, and is on preventative. She is being fostered in NY state about 30 minutes south of Albany.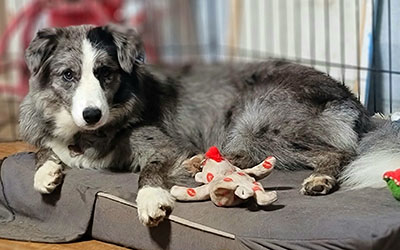 Female
17 mos.
Yes
Dog Savvy
Yes
Yes
REQUIRED
Preferred (see bio)