If you are interested in becoming a foster home for our rescue dogs, thank you for considering it. Since fostering is such a serious commitment, please read this entire page before filling out our Foster Care Application and Contract.
Process for Becoming a Foster Home
Prospective foster person (you) fills out a comprehensive application form.
If the application is approved, NEBCR conducts a home visit.
If all goes well, you are matched up with a rescue supervisor and are ready to foster.
New foster families work with a rescue "supervisor". The rescue supervisor has the ultimate responsibility for a dog, and makes all the major decisions relative to that dog, including authorizing anything out of the ordinary. They are responsible for screening potential adoptive homes, and for ultimately placing the dog, with input from the foster family.
---
Foster Home Responsibilities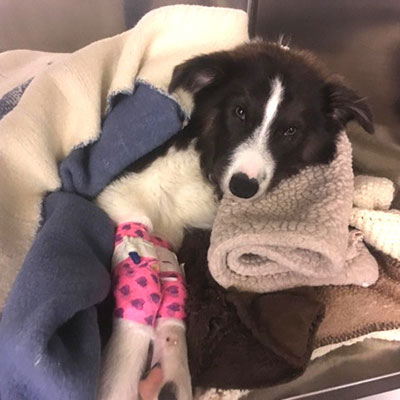 You will receive a manual containing all of the details for the following responsibilities:
Day-to-day care of your foster dog including their housing, feeding, and visits to the vet.
Vet care requirements for all our rescue dogs.
Working on house training, crate training, leash walking, and socialization where needed.
Crating your foster dog at night and whenever you are not around to supervise him/her. (If you do not own a crate, one will be provided to you).
Providing a secure environment where the dog cannot wander off (you will be provided an ID tag with NEBCR's 800 number on it, which must be placed on the dog's collar).
Keeping records so that you may be reimbursed adequately for any out of pocket expenses for veterinary care and other expenses authorized by your supervisor.
Communicating with your rescue supervisor on a regular basis with frequent updates on the status and progress of the dog.
If determined to be necessary, attending an obedience class or consulting with a behaviorist.
Working with the rescue supervisor to screen potential adoptive homes.
Committing to providing a foster home for the dog for his entire term in rescue (barring unforeseen circumstances when a dog may have to be moved); anywhere from two weeks to many months.
---
Before You Make the Decision to Foster
Understand that dogs often come into rescue with behavioral or health issues. Very few have any formal training, and many have not had much socialization with other dogs and/or people. There may be significant behavior issues to overcome such as: barking, marking, nipping, separation anxiety, shyness, or just a general lack of control and manners.
Be sure that everyone in your household is committed to the idea of becoming a foster family.
Be sure that child care providers or others who work in your home (and their parents, if they are under age) are aware of the commitment you are considering.
Be sure that your own pets can adjust well to the addition of a foster dog to the family.
Be sure that your own dogs get along with other dogs and are up to date on all their vaccinations.
Be sure that you and your family can commit to caring for a foster dog (with support from your supervisor and other volunteers) for as long as it takes to find him a forever home.
---
You Will Not Be Alone
As a group we help one another. Volunteers are always available to answer questions, and offer guidance and support. We have volunteers that are professional trainers and behaviorists, some that are heavily involved in herding or dog sports, and many that have an enormous amount of experience with Border Collies as a breed, and with rescue. All of us work together to create a supportive environment where we share information, problem solve, and work towards a common goal – helping Border Collies in need.
Congratulations for making it this far!
If you have decided that, after reading everything above, you want to join us as a foster home, we thank you and welcome you. Please complete our Volunteer and Foster Application below.
Once your application has been received our Applications Coordinator will be in contact with you either by phone, email or both.
Thanks to Wisconsin Border Collie Rescue for some of this text.
* Please Note: we are not able to accept foster applications in the states of NH and RI at this time
---
Submit a Foster Application Below: