About Chet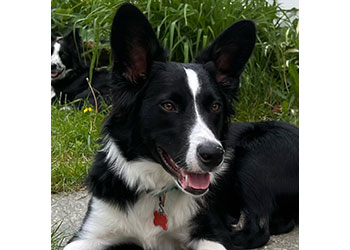 Chet is an 8-month-old smart, energetic and very sweet Border Collie mix. He welcomes each new day with curiosity and exuberance. He is very much still a puppy, he is still learning about boundaries, both with his human family and with other dogs.
He plays well with other dogs similar in age and play style. Chet is good with cats, but will sometimes try to play with them, which may or may not be appreciated by some cats.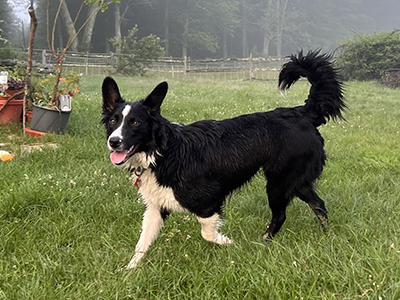 Chet gets very excited when meeting new people or going to a new place. In those situations, he needs to be firmly reminded and his focus redirected until he can calm down, usually in a couple of minutes.
On any quiet afternoon, you'll find him napping, either curled up by your feet, or preferably, with his head on your lap, and when he is bored, he loves to go to the toy box and pick out a chew toy to work on.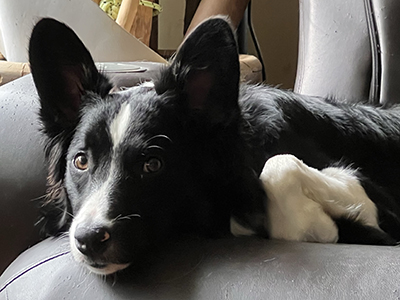 Chet knows basic obedience commands such as sit, down, come and give a paw. He knows he's not supposed to pull when he's on a leash, but the excitement of going on a walk often gets the better of him, and if only those squirrels and chipmunks would
stop teasing him…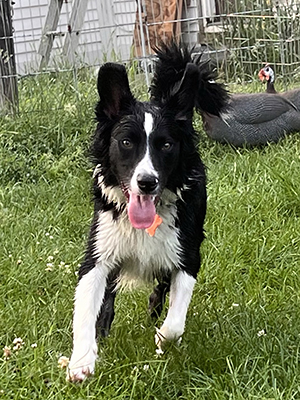 He can be a bit vocal, especially when he is excited. We are working on 'speaking' with a more quiet voice.
Chet would do best in a quiet yet active home with no small children as he can easily overwhelm them with his exuberance. His new family should be willing to set firm boundaries for him, further his training and help him grow and mature.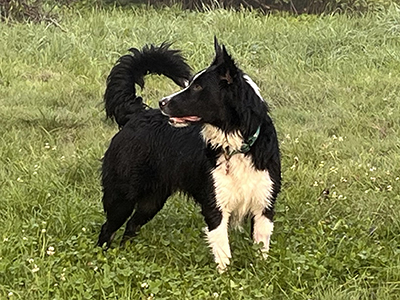 ---
Please do not inquire about a particular dog until you have an APPROVED application on file.
Male
8 months
50lbs
Older kids only
See bio
See bio
Yes
Yes
Requires further training
Yes
NO