Newsletter
Home Main Topics
Calendar Sales
---
2024 Calendars are Ready to Order!
The NEBCR 2024 calendar is available to order!
The annual calendar is one of our biggest fundraisers and is chock full of fabulous pictures and stories of NEBCR alums.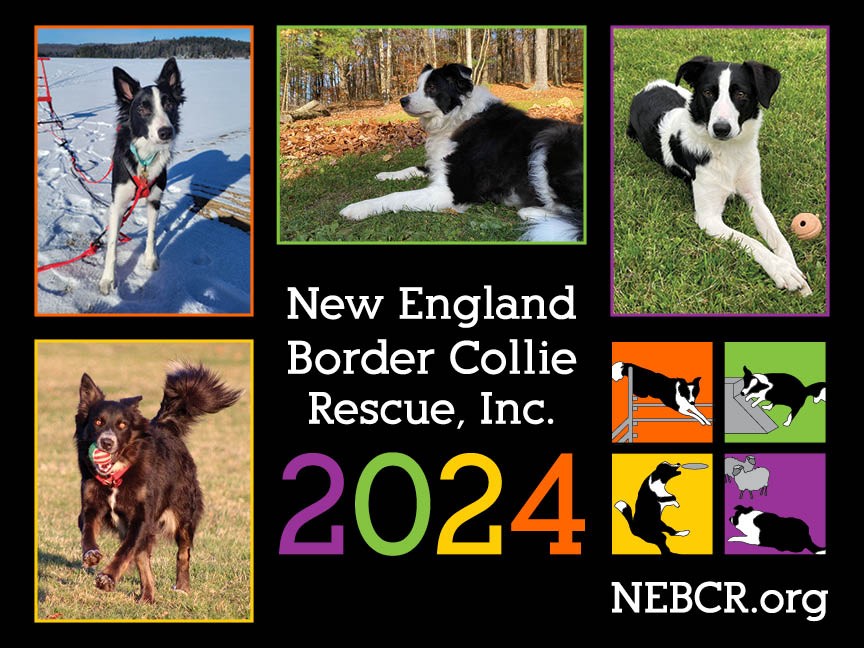 Time to order your NEBCR Logo Wear!
---
Time to order your NEBCR Logo Wear!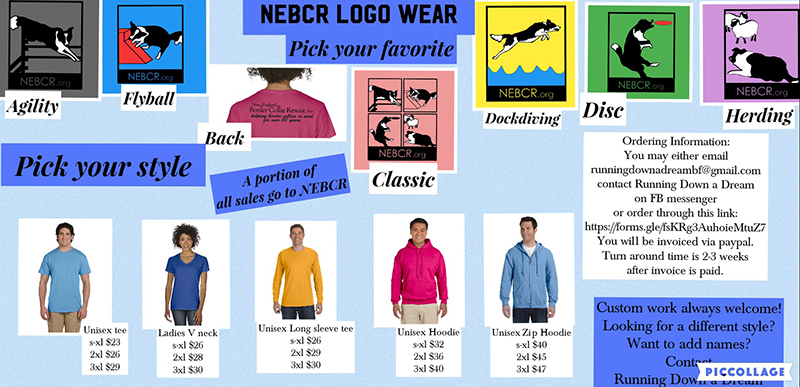 These are all made to order, so you get to pick your design/color and style. Don't see what you want? Message Running Down a Dream on FB, IG rdadbf or email: runningdownadreambf@gmail.com.
Make it your own by adding names. Order by messaging Running Down a Dream or use this link to complete the google form. Turn around time is currently 2-3 weeks.
Make your color selection here.
Color and Size Selections
NEBCR Fostering
---
The Experience of Fostering Ocarina:
a rescue story
Watch the amazing story of Rina from deaths door to recovery and finally placement in her forever home. See for yourself the difference fostering for NEBCR can make.
Our Mission
New England Border Collie Rescue, Inc. (NEBCR) is a group of volunteers working to find homes for stray, abandoned or unwanted Border Collies throughout the Northeast United States.
Available for Adoption
NEBCR, Inc. has dogs in foster care for at least a two week evaluation period before they are made available for adoption.
Please review "Our Adoption Process" to find out how to adopt a dog from NEBCR. You must have an approved application on file to be considered for any NEBCR rescue dog. Please submit your application BEFORE inquiring about a particular dog.