About Claire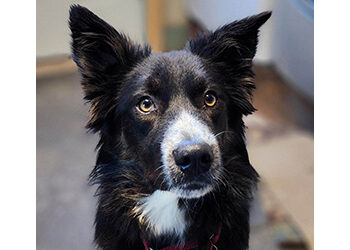 **ADOPTED **
Claire, born 5/22/22, is a spayed female Border Collie/Australian Shepherd mix and she exhibits the best (and worst) of both breeds! She is in a foster home with numerous other dogs and we have found out that letting her out in the large backyard while the others are playing ball, etc., with the people in the family is a bit too much for her herding tendencies to handle and the others get a bit irritated with her.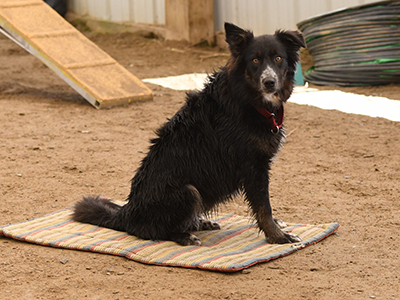 When outside with just a few calmer dogs (including a 10 lb papillon mix) she is fine and plays quite appropriately. She came from a home where she was well loved and the owner, in trying to do the best for her, let her go to a farm where she was left out on her own, this was a common age for a fear period to appear, and she began some bad habits when folks appeared at the farm and wanted to approach her a bit too quickly for her liking.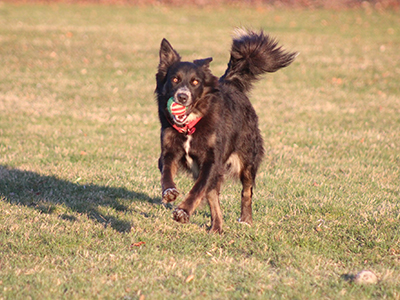 She would respond with barking to get them to back off. She has now been in foster care for 2 months and has been coming down to our training building to meet some dog savvy students and is doing great with this. It seems like each new "stranger" she now meets is accepted much more quickly than in the beginning.
Claire walks very nicely on a leash and is doing well with her obedience training.
She LOVES agility and the sight of her leash coming out gets her very excited. She rides nicely in the car, she readily crates and settles, and also seems to do fine when free in the house. She also loves to play ball and will bring it back!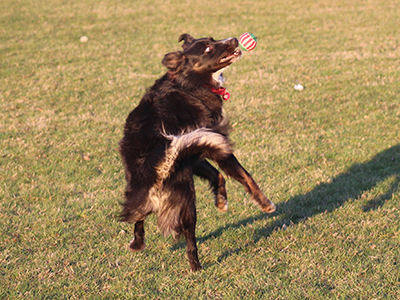 ---
Please do not inquire about a particular dog until you have an APPROVED application on file.
Female
11 month old
NO
Yes
Yes
Yes
Yes
Required
Preferred
No