About Daisy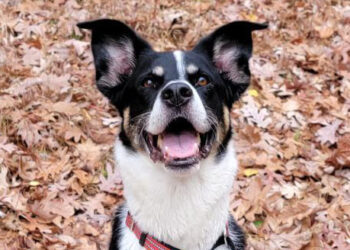 **ADOPTED**
Daisy is a beautiful, female, six-year-old smooth coat Border Collie. She is a lower energy, is incredibly sweet and loving, and is happiest when she is with her person. She lives for belly rubs, rolling in leaves while you are working around the yard, or just chilling around the house and relaxing near her family while watching TV.
She is great with new people, and loves welcoming to cuddle, get pets, or play with her. She has not met children while under her foster family's care, but prior history suggest that she may be ok with older children.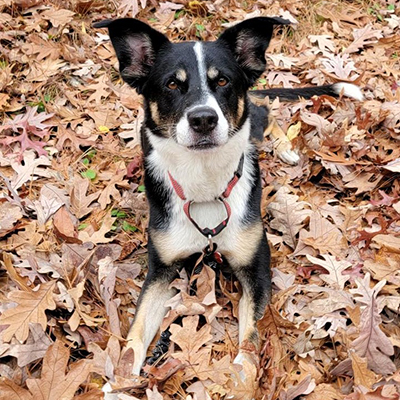 Daisy is very strong and athletic and would make a great sport dog, runner, or hiker. She loves fetching and running to catch a Frisbee or a ball. She loves running next to you, wagging her tail, ears up always making it look easy, like she is barely trotting next to her person. She absolutely loves going outside for any activity, sniff sessions, or simply picking up sticks on a lazy walk. When it's time to go inside, she has an excellent "off switch" and will lay on her bed calmly near her person, happy with the company.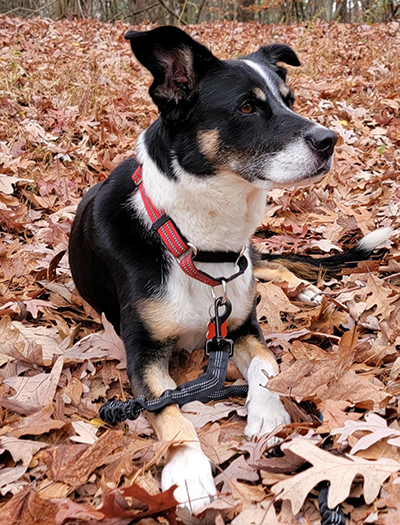 Daisy came into rescue when her family's circumstances changed and because of those unfortunate events she developed separation anxiety. Despite her concerns, her foster family has been working with her and she has made very good progress. Now, Daisy can stay home alone, calmly in her crate for a reasonable amount of time.
Daisy very much would like to be the queen of her castle. Though she does well on leash as long as other dogs don't approach her. She like many border collies has a bubble and does well as long as no one bursts it. This could change with more training, socialization and Daisy gaining confidence. However, for the immediate future, and as long as this is an issue, she does need to be the only dog in her home.
She ignores our dog savvy cats, and she seems fine with them roaming around her.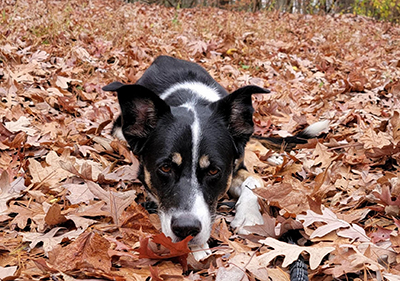 Though Daisy is house trained, she needs to continue her basic training to learn and expand on her manners. She gets excited when she greets new people and sometimes jumps enthusiastically, with a full dose of Daisy love. She is however, very responsive to the proper redirection, and will sit patiently when asked.
Her foster home has been working successfully with her and she has expanded on her basic social behaviors and skills. She now sits and waits for queues to get her leash on and go outside. She picks things up quickly and really wants to please. She is highly food motivated, which makes her training sessions a delight.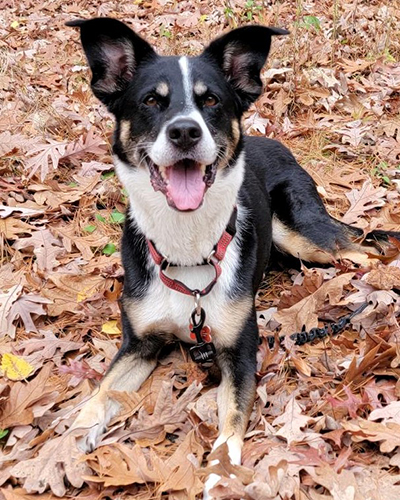 Daisy's ideal future home is one where her adopters are retired or work remotely and have no other dogs. She does not need to have a full workout schedule, but she needs to be able to go outside at least 3 times a day for a short period of time.
Because of her anxieties, Daisy needs to be crated when left alone, and she can't be left in the crate for long periods of time. She is making good progress in learning to manage her anxieties, but getting over her anxieties will require time, training, trust, and patience.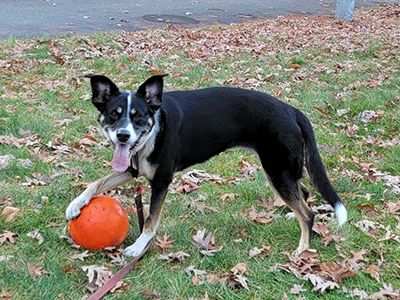 Daisy will make her chosen family very happy. She is a big cuddle bug with a huge heart. She just needs to be loved by someone and be made the center of their attention. She will return that love with nothing short of devotion.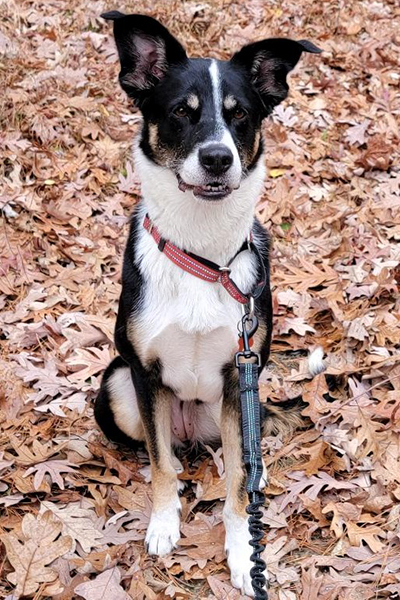 ---
Please do not inquire about a particular dog until you have an APPROVED application on file.
Female
6 y.o.
55 lbs
Maybe (see bio)
NO
Ok
Yes
Yes
REQUIRED
Yes
No