About Holland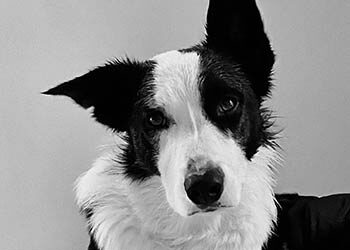 **ADOPTED**
Introducing Holland, a Border Collie/Cattle Dog mix! This guy has lot going for him and will make a great addition to just the right home.
This pup is the bees knees! He's happy, goofy, silly, playful, a ham, love muffin….. He leans more to Cattle Dog in his play style than a border collie. He won't be herding.
He's just over a year old and came into rescue due to no fault of his own. It seems he was showing some nippy type behavior with a very young child. The family was erring on the side of caution and made the hard decision to rehome this amazing pup. He won't go to a home with young children. He is mouthy here like a puppy and responds well to redirection.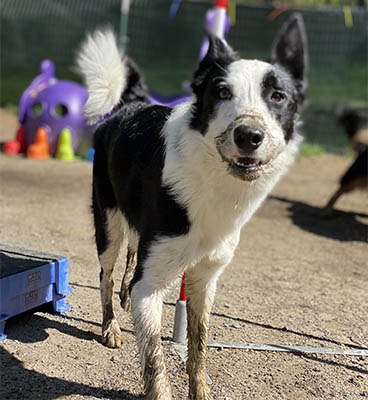 Living with this limitless dog is like reading a page turner book. You look forward to turning each page and if you miss something you have to go back and make sure you didn't miss any detail. Holland is a page turner in the best way possible.
He's so athletic!!! Holland's foster home has a small daycare and he does well with all of the dogs (his favorite is a Cattle Dog.) He has met dogs of all sizes and breeds. There is one dog that causes hackles, a very anxious dog. I can easily redirect Holland. He likes bitey face and letmestealtheballinyourmouth.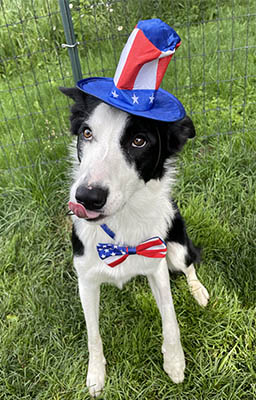 While I don't see him doing agility at this point because he still needs some confidence building along with relationship building, he would be an awesome trick dog , parkour – I often joke that he's Hollywoods next canine movie star! I don't see limits for this dog. His home will need to invest in his mental needs along with his physical needs. It's hard for me to put into words just how wonderful Holland is.
With humans, Holland will be happy to jump in your bed in the morning flop himself behind you and give a hug, jump on your chair and wait for you to give belly rubs, will parkour off furniture and even your belly. 🙂 He's hysterical! His home will be able to channel his energy into something more productive
He's good with cats.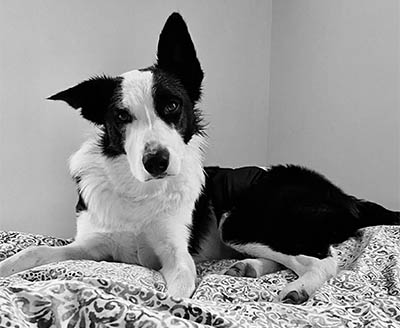 He can be loud and demanding to get what he wants. We are working on that so his new home will need to continue helping him. He's a nut and patterns certain behaviors that cause him some level of anxiety/stress. The gate to the backyard has become a trigger and he will jumping up on the gate and bark, so I'm having him perform a behavior before the gate opens. He demand barks too, will need to work on this.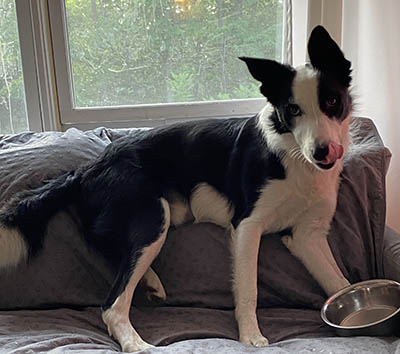 He's a space invader with dogs and humans. Holland is just being Holland and will back off if the dog tells him to. He barks, digs in the dirt pile. You will never be able to use the water hose again. Holland barks when the hose is on and will jump to get to the water stream – probably to unsafe heights.
I think a home that had no other dogs will be best but I will consider a home with just the right dog, patient, confident, just the right play style for a nippy in-your-face Holland.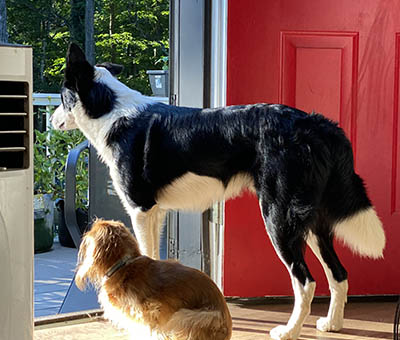 Please remember that we are looking for a home that matches his needs. If you believe you can give Holland the rich life he is so ready for please be in touch. He's a lot of dog with some quirks that will bring the right home so many years of laughter and joy.
Holland is being fostered in southeastern, VT
---
Please do not inquire about a particular dog until you have an APPROVED application on file.
Male
1 y.o.
Older kids OK
Yes
Yes
Yes
Yes
Recommended
preferred
NO