About Zep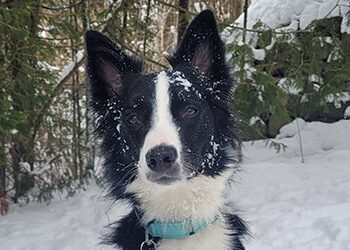 ***** UPDATE *****
Meet Zep, a quirky and stunningly handsome bundle of energy who loves people and charms everyone he meets. He is very active yet at the end of the day he loves nothing more than to snuggle with his favorite person. He frequently feels that just a head on your lap is not enough and wiggles his whole body onto your lap for even better snuggles. Zep is a bit of a velcro dog and will follow his person from room to room. In a quiet household, Zep settles well by his person's side or at their feet and waits patiently while the humans work or relax around the house.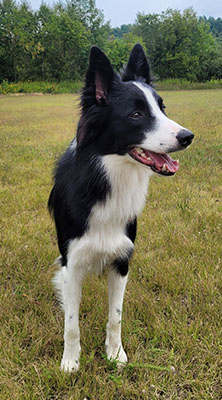 When he wants to play or needs to go out, he will get your attention by silently "barking" at you. His favorite activities include fetch, hiking, swimming, skijoring and rough housing with his furry foster brother. He is leash trained and walks well on a front clip harness. On hikes, he stays nearby and recalls very well unless there are unfamiliar dogs around. He is crate trained and rides well crated in the car, although he does like to vocalize his excitement for minute or two at the start if the ride! He struggles with proper greetings and is still working on leash reactivity towards unknown dogs. Thankfully, he makes friends quickly after proper introductions and loves playing with his buddies. Zep is incredibly smart and is highly food motivated.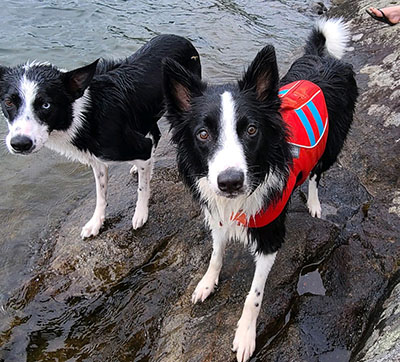 Zep is special needs and looking for that special person to build a life with. He's looking for a chance to prove he is well worth a little management living with him may involve. Zep has OCD and anxiety tendencies but has worked hard to increase his self control and limit his OCD with the help of medication and training. Although he has improved drastically, his new home will need to continue working with Zep to increase his self control. When Zep entered rescue this was pretty much a constant battle for him now it has been reduced both in frequency and intensity.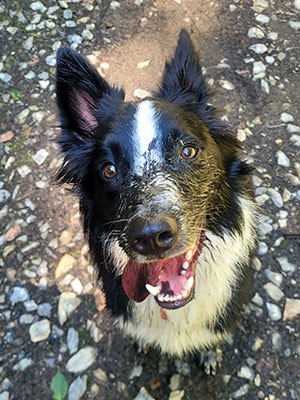 His new home will need to recognize and reduce situations that stress him (his present foster home can help with this). At times, he seems to view his tail as the enemy and will guard against objects of high value. It's his default behavior when over stimulated. For example Zep prefers his meals from a dish being held to keep him from snapping at his tail. His new home should be someone who is adept at reading doggie body language so that Zep's focus can be redirected to more appropriate behaviors.
Although Zep loves kids (ball throwers), he finds young kids too exciting and will occasionally view them as his own personal sheep.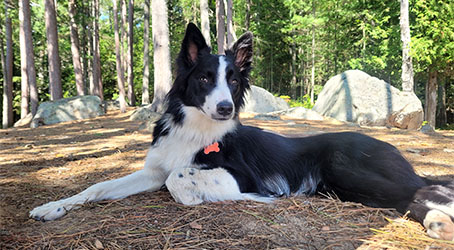 Zep would do best in a quiet household with a consistent routine. He would also LOVE to have a home that loves the outdoors as much as he does. His OCD and anxiety are greatly diminished when he is outside.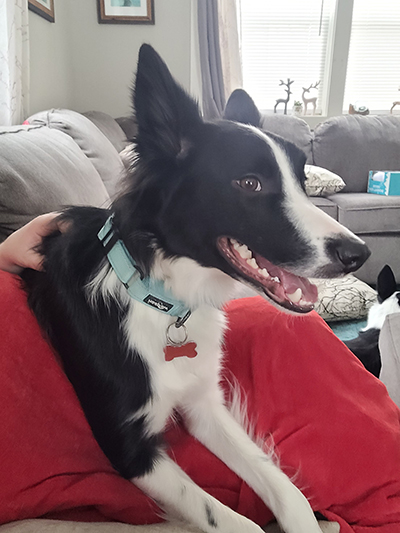 His future owners should be patient and willing to continue with his training. If you have room in your heart for a smart, loving, quirky (emphasis on quirky) handsome boy you may have found the next addition to your family. If you have an approved application on file, we'd love to hear from you.
---
Please do not inquire about a particular dog until you have an APPROVED application on file.
Male
1 y.o.
42 lbs
see bio
Ok
NO
Yes
Yes
REQUIRED
Preferred
NO