About Zep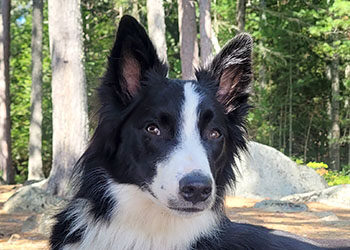 Zep is a high energy, quirky border collie who's future owner will never again feel lonely or bored. He is a sweet boy who always wants to be the center of attention and wants to be on the go. He loves to swim and loves playing ball or tug-o-war with his humans. Zep enjoys playing with other dogs once he's been properly introduced. Any furry siblings would need to be very playful and very patient as he will continue trying to instigate playtime after the other dog has tired and will often ignore the first couple warnings from other dogs.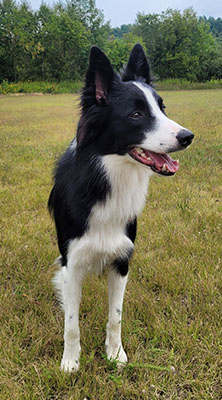 At just over a year old, he is still learning to direct his enthusiasm and struggles with self control so his ideal home would be with someone who is prepared to continue the "nothing in life is free" training. He is not a counter surfer and is respectful during dinnertime, however he is very food motivated and will steal food or items he shouldn't have in order to trade for treats.
Remember I mentioned Zep is quirky, hey what Border Collie doesn't have a quirk or two. Zep actually has OCD and upon entering foster care, would attack his tail to the point of self harm. Upon seeing a behavioral vet, he was placed on medications which have helped immensely but his future owner will need to continue his ongoing training. He seems not to recognize his tail and will resource guard anything he sees as valuable such as: food, treats, new toys or new chews, and occasionally attention. At meal times, he needs someone to hold his food dish to avoid him snapping at his tail. His future owner should be someone who is adept at reading doggie body language so that Zep's focus can be redirected before he snaps at his tail. Most days, Zep redirects easily with a command to go to his crate or get his ball.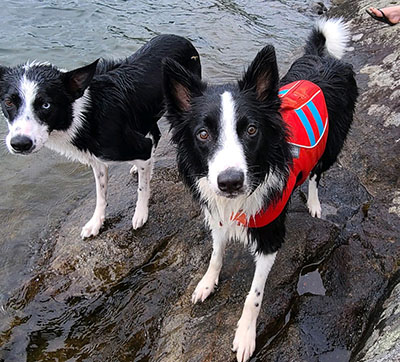 As a dog with OCD, a consistent daily routine with plenty of exercise and mental stimulation is very important. Zep is reluctant to settle down in the house even when there is no activity. He does best when just one person is home as noise such as singing, laughing, or loud conversation will send him running for his favorite toy to run around and squeak. When bored, Zep will make a game out of stealing items he shouldn't have, such as the tv remote or socks.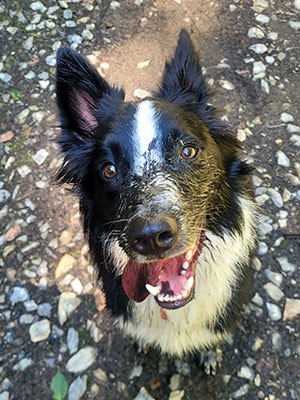 Since he is prone to resource guarding from himself, Zep has not been allowed to get on the furniture in his foster home. That being said, he believes himself to be a lap dog and when his humans are on the couch he wants to lay on your lap. At times he just wants to lay in peace without being pet. Other times he wants head rubs or just wants to play with his toy on your lap.
Like magic when Zep is outside all his troubles seemingly melt away. Zep is wonderful hiking or mountain biking partner and stays close when allowed off leash. He gets along with everyone he meets and his recall is quite good providing distractions such as other people or dogs are far enough away. Zep loves kids of all ages, however between his exuberance and his OCD, he would be better suited in a home without kids. Zep is crate trained and rides well, if not always quietly, in the car. If you think you are a good match for Zep and his unique quirks, and already have an approved application on file, we'd love to hear from you.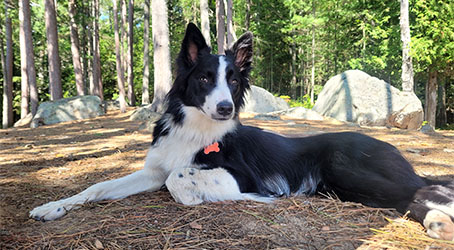 ---
Please do not inquire about a particular dog until you have an APPROVED application on file.
Male
1 y.o.
42 lbs
see bio
Ok
NO
Yes
Yes
REQUIRED
Preferred
NO